Case Study: Water soluble flux residue and product reliability...a connection?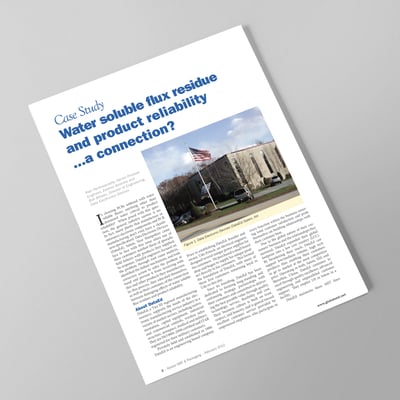 Is cleaning PCBs soldered with water soluble fluxes anything other than deionized water critical to product reliability?
When posed with this question, the general industry answer is no. In fact, many plants that manufacture or outsource electronic components and PCB manufacturing don't even have a cleanliness specification! Data Electronic Devices(DataEd), Salem, New Hampshire came face to face with this issue when one of their customers notified them of sporadic field failures with products they supplied. In response, DataEd engineers focused on the problem through root cause analysis, identified the failure mechanism, and took corrective action to solve the problem at hand and prevent it from recurring with this and other products they manufacture. In this process, they educated themselves, as well as their customer, of the connection between damaging effects of water soluble flux residues and product reliability.
Download the full article below...
Fill out your information to download the full article...