Cleanliness Assessment for Class III Lead-Free No-Clean Assemblies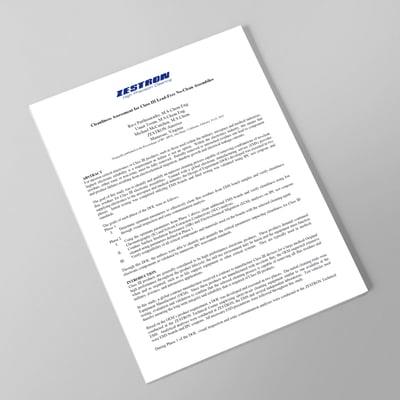 Within the electronics industry, this means that residues, either ionic or non-ionic, must be fully removed.
The goal of this study was to identify and qualify an aqueous cleaning process capable of removing combinations of no-clean flux residues for Class III electronic assemblies. Teamed with a global electronic manufacturing service (EMS) provider supplying electronics to the aerospace and medical industry, the Design of Experiment (DOE) developed was executed in two phases. Initial testing was completed utilizing EMS boards and final testing was validated using IPC test coupons and standards.
Through this DOE, the authors were able to identify and quantify the critical parameters impacting cleanliness for Class III electronic components as validated by numerous IPC assessment standards.
Download the full article below...
Fill out your information to download the full article...