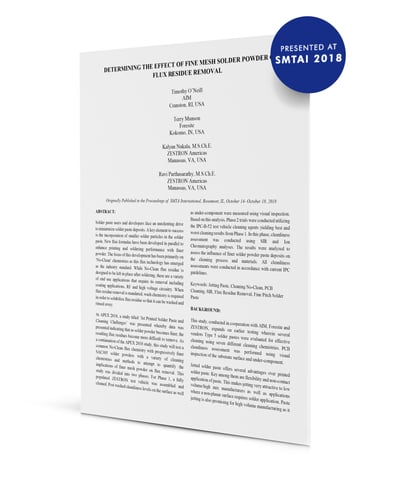 Determining the effect of fine mesh solder powder on flux residue removal
Solder paste users and developers face an unrelenting drive to miniaturize solder paste deposits.
A key element to success is the incorporation of smaller solder particles in the solder paste. New flux formulas have been developed in parallel to enhance printing and soldering performance with finer powder. The focus of this development has been primarily on 'No-Clean' chemistries as this flux technology has emerged as the industry standard. While No-Clean flux residue is designed to be left in place after soldering, there are a variety of end use applications that require its removal including coating applications, RF and high voltage circuitry. When flux residue removal is mandated, wash chemistry is required in order to solubilize flux residue so that it can be washed and rinsed away.
Download the full article below...
Fill out your information to download the full article...
---