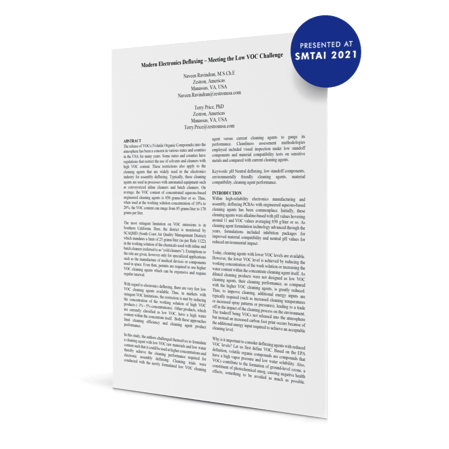 Modern Electronics Defluxing – Meeting the Low VOC Challenge
The release of VOCs (Volatile Organic Compounds) into the atmosphere has been a concern in various states and counties in the USA for many years.
Some states and counties have regulations that restrict the use of solvents and cleaners with high VOC content. These restrictions also apply to the cleaning agents that are widely used in the electronics industry for assembly defluxing. Typically, these cleaning agents are used in processes with automated equipment such as conveyorized inline cleaners and batch cleaners. On average, the VOC content of concentrated aqueous-based engineered cleaning agents is 850 grams/liter or so. Thus, when used at the working solution concentration of 10% to 20%, the VOC content can range from 85 grams/liter to 170 grams per liter.
The most stringent limitation on VOC emissions is in Southern California. Here, the district is monitored by SCAQMD (South Coast Air Quality Management District) which mandates a limit of 25 grams/liter (as per Rule 1122) in the working solution of the chemicals used with inline and batch cleaners (referred to as "cold cleaners"). Exemptions to the rule are given, however only for specialized applications such as the manufacture of medical devices or components used in space. Even then, permits are required to use higher VOC cleaning agents which can be expensive and require regular renewal.
Download the full article below...
Fill out your information to download the full article...
---